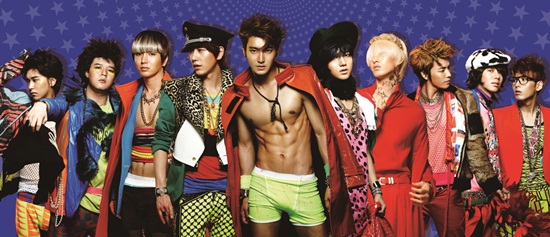 The album sales for Super Junior's fifth album, Mr. Simple have reached 500,000 sales mark.
According to the Gaon chart released on April 12, Super Junior's fifth album, Mr. Simple, which was released on August 3 has sold total of 502,830 copies by the end of March, becoming the album king three years in a row.
Super Junior's record of becoming a half-million selling artist is meaningful considering that the record was previously achieved by Kim Gun Mo's 8th album Hestory in 2003 and TVXQ's fourth album Mirotic in 2008.
Right after Super Junior's fifth album was released, it became number one on all of Korean music charts and the group showed their power by becoming number one on various charts overseas including Taiwan, Thailand, and the Philippines. After setting a new record by being in the number one spot for 63 weeks in a row on Taiwanese KKBOX chart with "Miinah," the group continued their parade with "Mr. Simple" which has currently been number one for 34 weeks in a row.
Meanwhile, Super Junior successfully held a concert in Paris, France for the first time as a Korean group on April 6. They are planning to continue the world tour fever with stops in Shanghai, China on the 14th and Jakarta, Indonesia on the 28th and 29th.
Source: Newsen
Translated by Minnie @
SUJUISM.BLOGSPOT.COM
PERMISSION MUST BE OBTAINED FROM SUJUISM.BLOGSPOT.COM TO RE-POST THE TRANSLATION
The translation cannot be re-posted elsewhere without my permission. If you would like to use this translation for your website, please leave a comment below specifying where you want to re-post my translation. I will reply to your comment and let you know whether or not you can take out my translation. Please copy and paste the credits above when re-posting. Only the source of the article and the translator should be credited when re-posting the translation; no other names or blog addresses may be added to the credits.